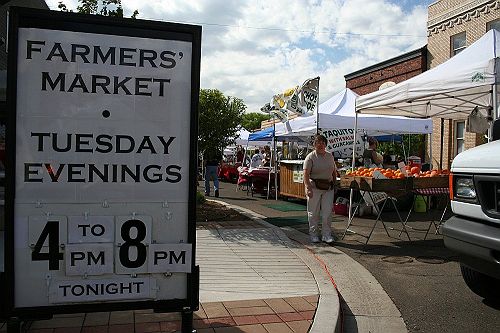 I have an article at Around Carson now about the local Farmer's Markets, and also about the other options we have to get local food from local growers.
It's called Community Supported Agriculture, and here in Northern Nevada we've had it for a couple of years at least. In essence, by signing up with a CSA you get a "subscription" to a produce delivery service. You pay one flat fee up front at the beginning of each season – spring, summer, and fall, and then each week a basket full of produce is delivered with your name on it. This produce is all grown on local farms, and the contents of the basket change throughout the year as different fruits and vegetables fall in and out of season. So in May you'd start getting a variety of spinach and lettuce, then in June peas and carrots start coming into season so those start showing up in your basket. And it continues all the way through December when you're getting potatoes and squash. And because it's all locally grown, your money is staying in Northern Nevada and helping out our farmers here.
We're lucky here, because we're technically in a desert but we have several large rivers coming down from the mountains that make farming possible. So we have plenty of local farms to fill our markets and produce baskets, at least until things start to freeze in December.